About
My name is Iris Eouzan. After having alternated between drawing and biology for a long time, I ended up bringing together these two passions.
I started painting at 8 years old, the results were rather catastrophic… I quickly gave up the brush, to devote myself to biology.
The pleasure of painting returned to me at 15, and followed me throughout my studies. Today I have a PhD in ecology in my pocket, a full-time job (which has nothing to do with painting or my PhD, but which I love) and I dedicate my evenings to painting. I particularly like to make paintings in realistic style while playing with colours.
I work on commissions but also a lot simply according to my inspiration. I like to have the freedom to paint the animals that inspire me and test new ideas, to vary my creations.
My commitments
They are linked to my passion for the animal world, which I want to be able to paint while respecting nature.
– I only use and buy synthetic bristle brushes (none made from animal hair), in order to avoid any form of animal suffering for the manufacture of this material.
– The paintings on paper are sent in PEFC certified cardboard folders (from sustainably managed forests). The paintings are sent in custom-made packaging by me, from cardboard and bubble wrap collected from traders in order to give them a second life.
– Finally, the reference photos of my paintings for sale are used with the permission of the photographer or free of copyright (obtained on Pixabay).
Partnerships
Being involved with associations. . . is also helping to protect the animals I love to paint.
Because of my love for Nature, it is important for me to put my artistic skills at the service of animal causes. That is why I have chosen to work alongside associations and some wildlife parks carefully selected for their commitment to biodiversity and animal protection.
In addition to donating a portion of my profits to these associations, I work alongside them at certain events, promoting their actions or providing them with products for charity sales.
A raffle for the koalas
In January 2020, bush fires caused significant damage in Australia. The whole world was shocked by the distressing images of the situation, and hundreds of thousands of animals perished in the flames.
It seemed important to me to act to help local associations with the weapons I had at my disposal: my brushes.
Together with my illustrator colleague Delphine Dion, we each created a painting for the occasion and organized an online raffle to make them win. Thanks to this action, we were able to raise €368 which was donated to the association Wildlife Victoria.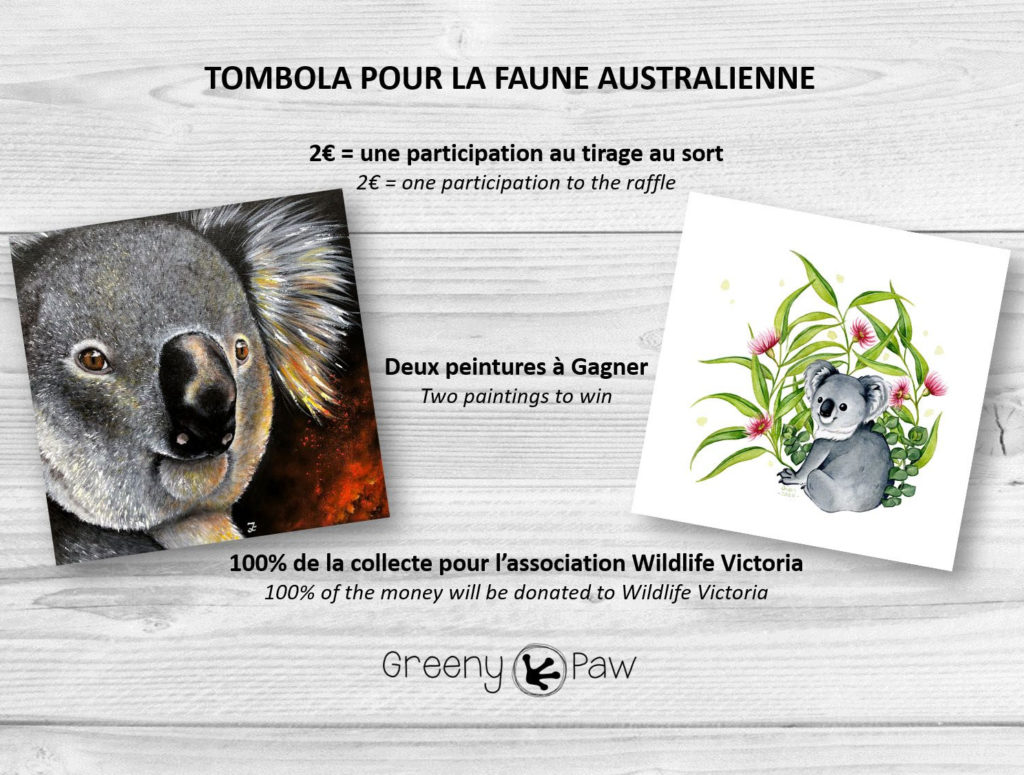 The Bear Park (Parc'Ours) of Borce
The Covid-19 crisis has severely affected many associations that rely on visitors and donations to generate income to care for their animals. One of my partners, the Parc'Ours Borce, in the Pyrenees, was one of them. So I set up a raffle for their benefit, to win different paintings of animals typical of the Pyrenees. This raffle reached 535 € and 30 participations.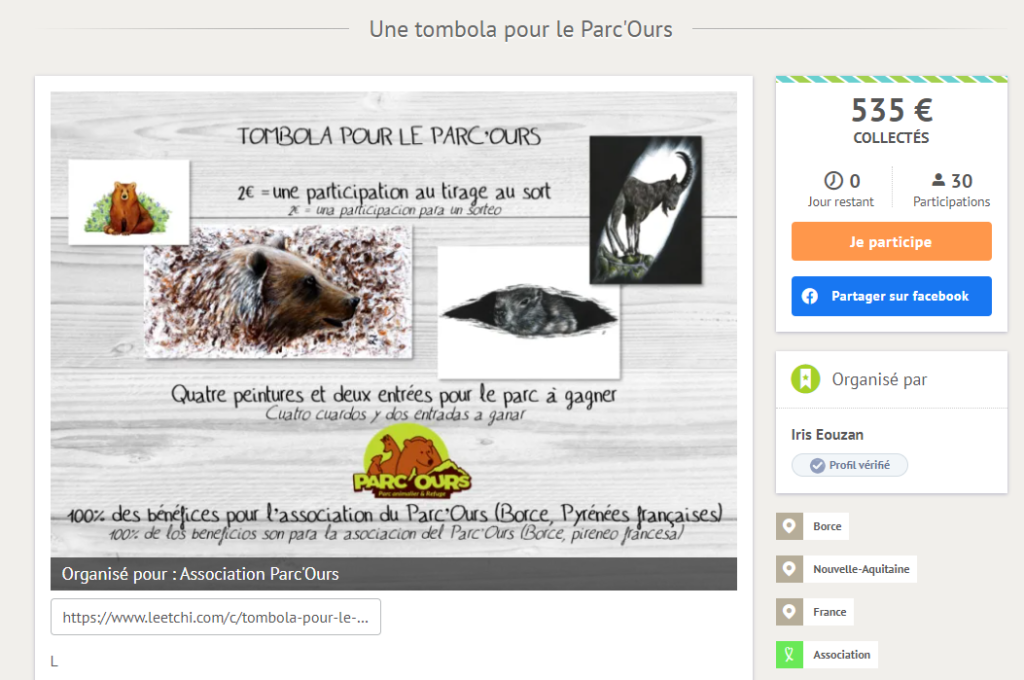 Other commitments …
Some realistic paintings were made to help associations. When you buy these paintings, part of the sale is donated to the association concerned.
Here is a list of my regular partners:
Militants Animalistes Sainté
This organization is campaigning against animal exploitation through public awareness campaigns. It takes car of abandoned or abused dogs, cats and rodents to find them new families.
Association Les Mal-Barrés
This association fights for the protection and defence of animals. She takes care of abandoned, abused or seized animals to find them a loving family.
Les Grandes Oreilles Refuge
Association that collects rodents from seizures, abandonments, laboratories etc… To find them new families and a better life.
Shelter for elderly/abused/abandoned/sick and/or disabled animals
This association participates in the protection and conservation of flora and fauna, by welcoming and caring for wild animals abandoned, seized, injured, threatened or affected by environmental problems.
Painting . . . and writing
Since 2021, I have also worn a blog editor cap for Isabelle Vauché, a colleague specialized in pastel paintings. To see my articles and know everything about the world of dry pastel, check https://cours-pastels-secs.com/.